I had this crazy dream last week.  So much so that I had to tell everyone I could about it. Simple because it involved killer corn.
The dream started with my co-workers and I talking about my father.  He was being pushed out of his job and forced to retire.  I was pretty upset about it, but my dad told me it was ok.
At this point I realized we were looking into a lobby of a mall, or space ship, or something similar to that.  If those things are similar or can be similar.  Or at least it was a wide open space in a building or vehicle of some sort (I stick to it being a space ship).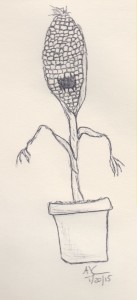 There were massive crowds of people, all happy, until…. the Killer Corn came in.  It was potted corn.  Tall stalks of corn, each clay pot holding one corn stalk.  How they moved, I'm not sure.  It was more like a herd of potted corn stalks.  They moved up to people, and the corn stalks opened their huge mouths and ate people.  And the people they ate then popped out as evil potted corn stalks.  The best example was a girl with red pigtails, who became an evil redheaded pigtailed potted corn stalk.
And with everyone they ate the herd of corn stalks grew.  I was up on the balcony watching this happen.  I ran to an outer window ledge.  Evil potted corn stalks ran past the window chasing all the other people.  I crawled out on the roof, but it wasn't a roof, it was some terra cotta shingles covering and engine or some sort.  I sat up here listening to people being eaten by the corn stalks.  I sat and looked off in the distance, not really worrying about the quickly multiplying corn.  Instead enjoying the heat from the engines and the view of fields in the distance.
And that's when I woke up.  All excited about killer corn.
PS – How about a dream soundtrack?  This dream's soundtrack – King Killer by Barkinghaus.