Posted on | April 21, 2014 | No Comments
They say a stressful job can make you go gray early. Never thought that was true.
I figure either a) my job is way more stressful than I let on or b) old age is setting in earlier I had hoped.
Considering it's been 7 years since I found my first gray hair and they've only just now reached the stage where Sam can't pluck then its not too bad.
Still… Gray hairs…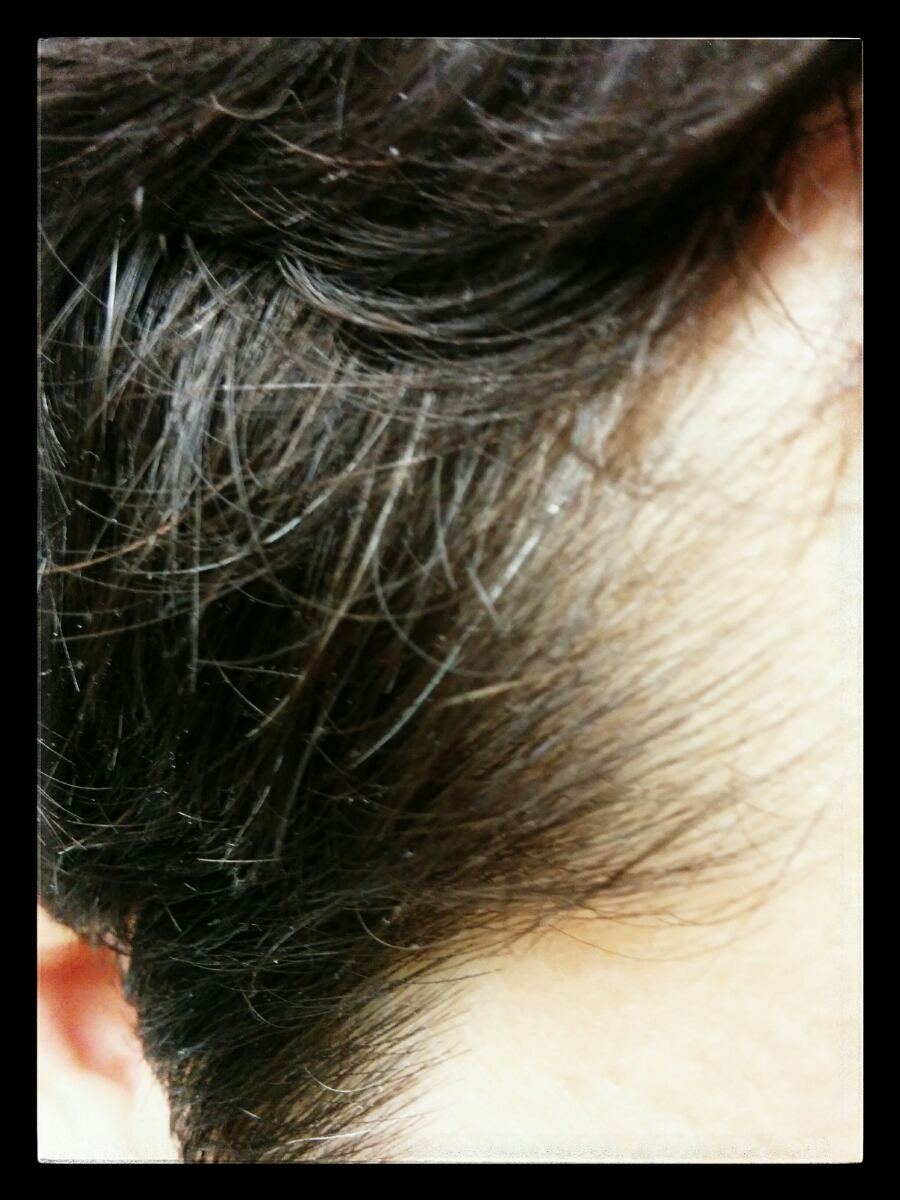 Posted on | March 31, 2014 | No Comments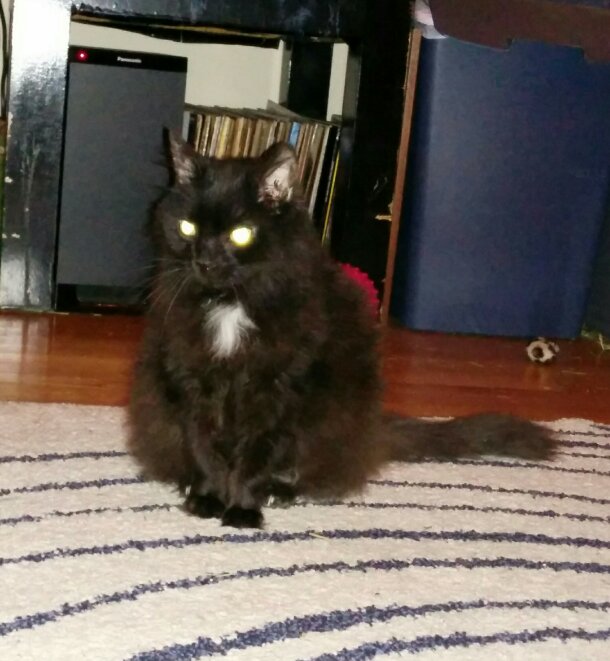 Of course when he wants to Angelo can look like he is straight out of Ghostbusters.
Posted on | March 10, 2014 | No Comments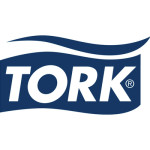 I have to tell you, I love that my father works for Tork.
Maybe it is just because I know the name now, but I see Tork products all over the place.  It may be sad, but they are little reminders of home to me.
I see Tork Napkin Dispensers at restaurants all the time.  They were even at Camp Fitch, where I took a group of 5th Graders on a field trip recently. And every time I see them I remember my father telling me about a question he asked when Tork first bought the paper mill he works at.
Dad – "What does Tork mean anyways?"
Tork Employee – "To Wipe." Soooooo Appropriate.
Posted on | February 28, 2014 | No Comments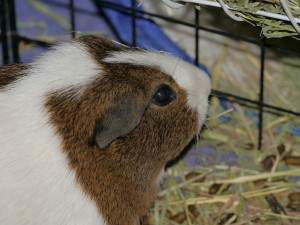 I bought a new lens and bag for the camera Sam got me for Christmas.  I like it if not soley for the fact that it can zoom in much further than the lens that came with the camera (the 'Kit Lens'…. look at that terminology.  I'm a pro now, right?).  Anyways, Paprika has never looked better.  And you ignore the large amount of guinea pig poo that is in the picture its actually a really nice picture.
So I'm excited.  A new lens (45-150 lens, cause that means stuff to camera people).  A new bag that is a backpack with lots of space for other stuff as well.  Both will serve me well on the oft storied trip to Camp Fitch next week.  But also at school today.  Because it's TIE DAY.  Everyone wears a Tie.  Or many.  I'm bringing the many in.  It'll be fun.
This post was really just an excuse to put a picture of Paprika up on the webpage.  She deserves some attention.  Although she's the louder of the two piggies, she's often seen as the "follower" and not the alpha piggie.  So we'll give her a little alpha piggie attention.  Suck it Ginger.
Posted on | February 27, 2014 | 2 Comments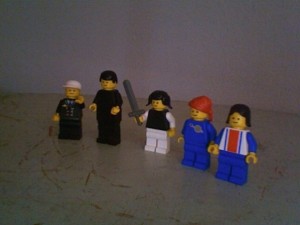 Of New York City.  How strange is that?
And it wasn't last night.  Last night was this big gap of nothingness.  No dreams, nothing to recall.
But a few nights ago I dreamt of New York City.  Of meeting friends at club there.  A club in some warehouse area that I walked to.  But had a skateboard.  And the people there weren't really friends, but more old classmates.  Seriously, Matt Thompson, we didn't hang out in high school.  I'm sure you're a daper guy, but I haven't thought about you since we graduated.  Maybe even before that.  But at this club, Matt Thompson, Chris Rabideau (have no idea how to spell his last name without a yearbook), Jen Olden, and some other person I recognized but couldn't recall their name (maybe someone named Katie or Jamie…. Jamie Glen-something… I don't know).  All in this club doing whatever people do in clubs.  I'm not sure about that either.  There wasn't music.  It was dark and there was a bar and weird flashy lights.  And a coatroom.  I remember the coatroom very well.  Cause I checked in my skateboard.  That makes it a club right?
So yeah…. my friends from back when… Colin, Shane, Yousey, Kevin, and Reg.  You ditched me in my dreams.  You bastards.
Posted on | February 26, 2014 | No Comments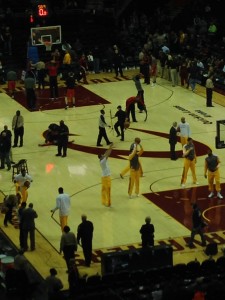 To be perfectly honest, I'm not good at basketball, I don't ever care about being good at basketball, have never been interested in following basketball, or cared about the sport.
But when I had free tickets to a Cavs game given to me it was a good opportunity to get out with a friend and watch a game.  So I went to my first NBA game last night.
A few conclusions I've come to:
A) Basketball is much more interesting when you see the game live
B) Its always fun not knowing any players names. I gave them nicknames and just referred to them by the nickname all. #8 – your name is Spaz. You are the Tazmanian Devil from old WB cartoons on this team. Keep it up, you've earned AJ's favorite Cavs player status. It is a new title, but deserving.
C) Watching Cleveland sports teams is a lot like watching Buffalo sports teams. The teams always know how to suck you in and get your hopes before crushing your soul with a loss.
D) If I get another chance… If anyone wants to come out and go to a game…. I would definitely go to more games. The arena is less than 10 minutes from my apartment, parking is cheap(-ish…. less than $20 for right next to the arena) and its always fun to root for a home team.
Posted on | February 25, 2014 | No Comments
Angelo is a strange cat.  There are very toys he actually plays with. But these squeaky animal toys are his favorite.  I'll fall asleep seeing them on the living room floor, and wake up with one in bed with me next to my face.  It's odd.  On more than one occasion he has woken me up pawing the squeak toys up and down the hall in the apartment. Sam shot this video last night of Angelo playing with a raccoon squeak toy on the bed.
Posted on | February 22, 2014 | No Comments
Its been one of those weeks.  You know, the never ending weeks of crap. Never mind that I only worked three days this week.  Never mind that one of those days was my birthday.  It was a week of just never ending things going about as bad as they can.
Lets start at the beginning.  Monday was President's Day.  Probably the best day this week.  I played video games.  I had a friend (Dani) come over.  Haven't seen in her well over a month.  She's one of those friends that lives just far enough away that seeing her takes more thought than it should.  20 – 30 minute drive to work.  I'll make that twice a day 5 days a week.  30 minute drive to see Dani.  I need to plan that.
But it was nice seeing her.  She was down and needed to talk.  I was able to be there for that.  Plus we ate cheese bread, played Lego Marvel Super Heroes and watched a few episodes of Community. Plus Sam got home in time to see Dani (their schedules rarely sync up).  It was good.
Tuesday was a Snow Day.  Roads were a mess.  School was cancelled at 5:25 am, which necessitated me getting out of bed and making a lot of phone calls.  Being that I was up I made Sam lunch and coffee (since she still needed to go to work) and shoveled out her car and mine.  I couldn't get back to sleep but I wasn't awake so I laid on the couch and watched Netflix.  I was tired, but couldn't fully fall asleep.  Regardless, at 9 am Cleveland declared a parking ban, so I had to shovel out my car and move it to a side street.
I hate Cleveland parking bans.  They institute them if there is ever more than 2 inches of snow.  Coming from Buffalo and Upstate New York it just shames me to live here.  They are shifty about parking bans to.  You have to search for the news.  It doesn't usually show up on news websites, or even Cleveland.com, Cleveland's website.  I've been able to find it by going to CleCityHall.com, City Hall's website, but that's absurd that they can ticket you for something like a parking ban, when they publicize it less than I do when I close school.  I'm pretty sure a parking ban affects more people than the 150 students in my building.
The other annoying thing about Cleveland Parking Bans is that while they are shifty declaring them, they are just as shifty letting people know when they are lifted.  Every parking ban that has been declared this year has been declared with the statement "in effect until further notice."  Earlier this year a parking ban lasted over three days.  I went to work and back three times before it was lifted.  That is crap. And again… when they lift parking bans it isn't publicized any more than when announced.
My first winter in Cleveland I got ticketed during a parking ban.   I worked on the East side of Cleveland then.  Someone at work informed me there was a parking ban, lasting until midnight.  So after work I stayed out at a friend's house until near midnight.  By the time I reached my apartment it was 11:50 and the street was clear and plowed.  I parked, figuring it would be ok for ten minutes.  The next morning I had a ticket for violating a snow ban on my car.  It was written for 11:59 pm.  I looked at the cars lining the street and every car ahead and behind had been ticketed.  Looking closer I saw they were all written for the same time, 11:59 pm.  Fuck you Cleveland Police Department.  Shit heads much.
Alright.  So that's my rant on Cleveland Parking Bans.  Tuesday wasn't the worst.  The ban ended by mid-evening and I was able to park back near my apartment before the end of the day. But still.  Damn Parking Bans.
After moving my car for the parking ban I still felt tired (not to mention having to shovel out the new parking spot I had moved my car to).  So I returned to the couch.  It was one of those days were I didn't get enough sleep to be rested, but got just enough to be unable to get back to sleep.  It was a haze.  I made a nice pasta and sautéed veggies dinner with some garlic bread.  Otherwise It was lost day.
Wednesday though.  What a day.  It was my birthday.  It was also supposed to be the honoring of Kenny Loggins' Day.  Whenever the 16th falls on a weekend like it did this year, Kenny Loggins' Day must be honored the next work day.  Like an 'observed holiday'.  So thanks to the snow day it now fell on my birthday.  However Kenny Loggins' Day as not to be. I got up and left for work early since we hadn't been in school in five days and I wanted to get things ready.  I got to school by 6:45am and the days started…..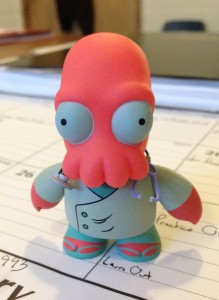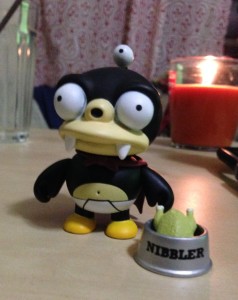 However because this is my blog and I don't write about work on my blog I'm not going to tell you about the day I had. Suffice to say it felt both quick and yet unending.  Because of the day I had at work, this birthday was unredeemable.  It officially made my top 4 Worst Birthdays List, and was on that list by 11 am.  That's quite a feat. Some day I'll write up my worst birthday list for the blog, but not today. The only good to come out of the work day was that I finally got the little gift I had bought for Sam and myself the week before off of Amazon.  Some Kid Robot Futurama figures.  I gave her Nibbler, and kept Zoidberg for my desk at work.
After work I spent some time walking around Giant Eagle trying to figure out what I wanted to make for my birthday dinner.  I didn't think of anything, walked around the store for almost an hour, and ended up leaving with vegetables, chicken, a loaf of asiago cheese bread and a hunk of parmesan cheese.  It came together when I got home.  I made up a can of tomato soup, cooked up the chicken I had and made a Chicken Caesar Salad. I shaved off some slices of parmesan for the tomato soup and salad served myself bread on the side.  I was cooking for one since Sam had class, but it came out pretty nice I think.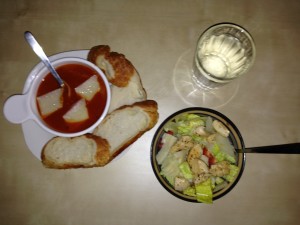 Sam came home after nine.  It was good to see her after an extensively long day.  She bought me an Egg McMuffin Sandwich maker for my birthday. Laugh all you want, but its awesome.  I had one several years ago, and it wasn't nearly as nice as this one.  I don't eat breakfast often, and even when I do I don't like spending too much time on it.  I'd actually been staring at this machine for a while, and it makes great breakfast sandwiches.
A few family phone calls and that was pretty much my day.  Ended a lot better than it started.
What day are we on?  Oh yeah…. Thursday. Thursday was almost non-existent.  That's not true.  It existed.  Work was …… well I won't talk about work.  But it seemed longer than it should have been.  Non-stop and unending.
I got home at a reasonable hour, but was exhausted.  I came home and crawled right in bed.  An hour or so later Sam made it home.  My tiredness this week makes me think I may be fighting something.  Multiple people at work have either colds, pneumonia, or strep.  So if I'm just beat and tired, I'm probably fighting something like that.  After Sam made it home we made tacos. TVP, lettuce, refried beans, tomatoes, cheese, taco sauce and some sun-dried tomato burrito shells.  It was really good.  We finished our night watching a few episodes of House of Cards on Netflix.  Then bed.
Friday, yesterday, was a long work day.  We had an event after school.  I was there from 7 am – 8 pm.  It was exhausting, and like other work days this week, what could go wrong…. No…. I don't talk about work on here.
By the time I got home and finally laid on the couch, I was happy the work day, work week, was over and done with.  Couldn't have been a longer week if it tried.  I managed to stay awake for about an hour and a half after getting home. Just long enough to fall asleep on the couch next to Sam.
Today (Saturday) is a gorgeous day here. Its over 40 degrees outside.  Warm enough for a long walk to the park, where most of this was written.  It also allowed me to take my camera out for a trip.  I still need to get a book, or play around with settings some more.  I think I want to buy a new lens for it.  I love that Sam bought me it for Christmas (it's a Panasonic Lumix DMC-G5KK).  I have the kit lens it came with, I'm thinking of getting one with a better zoom, but should learn more about the camera first I think.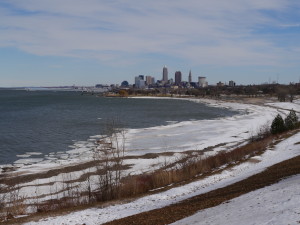 But I took it to Edgewater Park.  I was thinking how 5 or so years ago, when I first moved to Cleveland, I walked there on my first day fully living here.  How I took a shot of downtown with my camera from the hill at Edgewater.  If you asked me then I probably wouldn't have said I'd still be here 5 years later.  But I'm glad I am.  So I took another picture of downtown from the hill with this camera.  It's a fantastic view of downtown Cleveland, and I can walk to it from my apartment.  That's a big plus for me.
Tonight I'm heading to a Lake Erie Monsters Hockey game with Sam and some friends from work.  It'll be a nice capstone for what was a long, exhausting week.  I'm looking forward to it.
Posted on | February 4, 2014 | No Comments
Last week I had the thumb pain dream again.
Its hard to describe but in my dream I feel like I can't keep my thumb straight.  It feels painful and hyperextended.  I spend the whole dream, whatever it is about , holding my thumb with my other hand trying to keep it straight.  I've written about this in the past.  The whole dream is, well, just painful.
I generally wake up holding my thumb and honestly believe my brain is making it hurt.
Sometimes I think dreams I have are reoccurring, only to realize they just felt familiar and only happened that one night.  Thankfully I have a blog post a few years ago.  I'm sure I've had it since then but man did it hurt last week.
Anyways, I woke up to this today.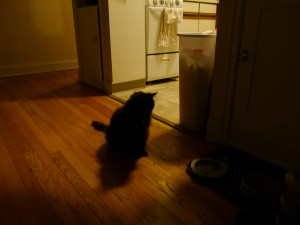 Posted on | January 8, 2014 | No Comments
Maybe its a sign that I like my job, but man I want I go back to work.  Its been way to long for me.  This stupid weather has been crazy. I haven't worked since December 20th.  That is almost 3 weeks ago.  I was ready to go back after a week off.
Staying home isn't the best for me either. I'm a notorious snacker and Christmas has left our apartment filled with candy and junk food.  I eat healthier when I work.  Although I have started P90X.  I was forced to look for alternative exercise when I the pedal on my trainer stripped the crank, so I couldn't ride.  I did order another crank set, but it was shipped to work, and we haven't been back yet.  But I've started P90x and we will see how long I stick with it this time.  Last time I think I did two weeks and it had legendary consequences for me that I only share with friends who know the most embarrassing stories about me.
All in all, I'm just waiting for the weather to return to normal, to get back to work, and to get on with life.
Here's hoping it happens tomorrow.
keep looking »