Posted on | July 23, 2014 | No Comments
10:51…..88 degrees… Call… Joe…
Posted on | July 23, 2014 | No Comments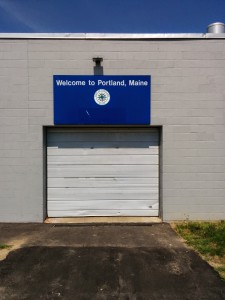 Years ago, 13 years ago in fact, I told my mom that all I really needed to do when visiting a new place was get a cup of coffee and walk around. That stands true today. I wanted to plan a trip to see Angie in Boston, and threw in a quick couple days in Portland Maine to visit my friend Pat as well.  Unfortunately Pat couldn't get the two days off work.  But I wasn't concerned.  Like I told my mom years ago, I don't need to be entertained. So after he picked me up at the airport – sorry, Portland doesn't have an airport, it has a Jetport…. which according to the dictionary I looked at is an obsolete word – so after Pat picked me up at the Jetport he dropped me off in downtown Portland.
I walked more than a few miles exploring Portland.  I loved it.  I walked down by the water, up by some bridges, got my feet in the ocean, had some fizzy homemade old fashioned soda, visited an art gallery and of course drank some coffee.  That is my idea of a trip somewhere. Walking around, exploring and generally enjoying myself.
After Pat got off work I got to see his house, eat Mexican at an interesting restaurant, and relax.  Pretty good day indeed.
Posted on | May 21, 2014 | No Comments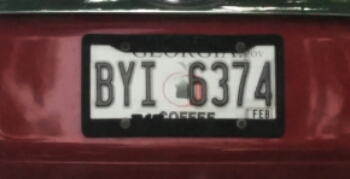 Do Georgia's license plates really day coffee on them? This one on the car parked in front of me clearly does. And I'm kind jealous.
Posted on | May 21, 2014 | No Comments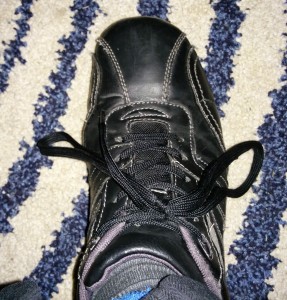 There was probably a good decade when I didn't tie my shoes if I wasn't exercising.  Probably longer than a decade.  All of high school for sure.  All of college too.
I had some great Chuck Taylors in high school.  I'd wear them all fall and winter, and when it got nice outside I'd rip the tongues out of them and cut off the rubber toe part to make sandals.  They were amazing, and it was one of those things I did that no one else I knew did.  Unique.  Felt good at that age and time.
Later in high school I had a pair of "Duck Tape Shoes" as my winter shoes.  I wrapped old running shoes in duck tape, sealed the seams with a lighter and used them as boots.  Boots with no traction at all, but boots.
Even after college, I took my old work shoes, some black leather ones from target (ok fake leather ones from Target) and untied the laces, put knots at the end, and wore them as everyday shoes.  These ones added an inch to my height and made me feel good.
For some reason now though, I can't go out without tying my shoes.  I need them to be tied otherwise it feels weird.  All those times people said to pick up my feet, it was my untied shoes.  I can't stand the drag now though.
Growth as a human?
Maybe.
______________________________________
P.S. – Give me the standard "Around the Tree" way to tie my shoes.  That Bunny Ears method, I roll that way.  Uncivilized I tell you.
Posted on | May 17, 2014 | No Comments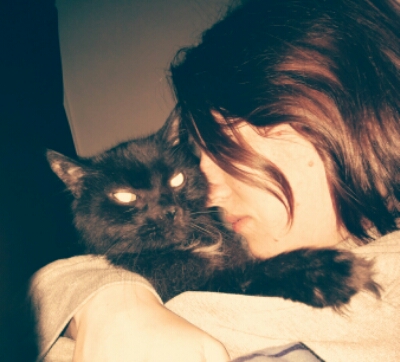 I assume this is a daily happening throughout the week. Angelo doesn't seem to mind the attention.
Posted on | May 13, 2014 | 2 Comments
If you know me, you probably know how much I loved the movie Mulholland Drive by David Lynch.
Not only was it a masterpiece mind fuck by David Lynch, but it came out in that perfect period of my life.  It came out in 2001, right after I graduated college, drove across the country and was back home living with my parents for a year.  I had a lot of free time on my hands, hadn't started really living life or paying back student loans – so I had money to spend, and I had my best friend from high school, Reggie, back home also.  That meant when a weird movie came out and was actually playing in my home town, we were going to see it.
But there's more.  It didn't play at the normal theater.  It played at Aimee's Movie and Dinner.  Aimee's had just opened at that point.  Glens Falls (the city neighboring my home town) was trying to revitalize it's downtown, and Aimee's was part of it.  Aimee's was next door to Wallabee's Jazz Bar and served food and drinks during the movie.  Most dinner and movie places I assumed served dinner, then the movie.  Aimee's took your order, started the movie and brought you your food.  It was fantastic.  Unfortunately from our experiences it was going well.  There were never more than 6, or 8 people there at a time.
So we went often.  I think Reggie and I saw Mulholland Drive 4 times there during its run.  And thankfully Aimee's is still open and doing much better business than that first year.
This year, when Sam saw that Silencio was coming to the Beachland Ballroom and Tavern, we had to get tickets and go.  The music of David Lynch.  Perfect.  If you don't know, Silencio was a club where the pivotal scene of Mulholland Drive took place.  It is a memorable spanish version of Roy Orbinson's song Crying by Rebekah Del Rio.
Silencio was amazing.  They played two full sets.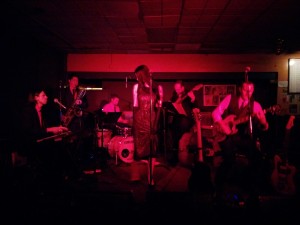 Posted on | May 6, 2014 | No Comments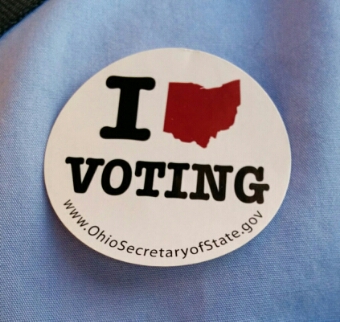 Who voted in a primary….
This guy did.
Posted on | May 1, 2014 | No Comments
And the new couch proves comfy.
I woke up at 4 am and I struggled to get back to sleep.
I tried my usual trick…. put an episode of Futurama on my phone, turn it over, and fall asleep listening to it.  Futurama has been my go to sleeping method for years.  Almost never fails me.  I've gone from falling asleep watching an episode, turn just hearing an episode and falling asleep.  Sam struggles to fall asleep to noise or people talking…. I kind of need it.  Sam needs dark, I can fall asleep with whatever.  So our compromise is that I put Futurama on my my phone, flip the phone over so its dark still, and wear headphone while falling asleep.  It's sounds elaborate typed out, but its not.  Sam never really complained about the light or noise, I just know she gets to sleep faster without it.
But while I fell alseep great last night.  I woke up at 4 am and couldn't get back to work with Futurama on my phone.  So I tried sleeping trick number two: move locations.  I went out to the living room to lay back down and try to fall asleep.  It worked.  It worked perfectly.  Within minutes of laying down I got back to sleep.
I put that on new couch and his amazingness.
Of course I had a weird dream that I woke up at 7:59 and it was still dark outside.  It was really vivid too.  In my dream my alarms didn't go off, and I kept checking my phone and it kept saying 7:59.  It was dark outside and my alarms had never gone off.  In my dream I grabbed Sam's computer off the coffee table and it too said 7:59 (strange because Sam's computer is on the coffee table this morning).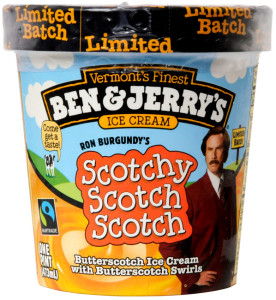 I blame that dream on the Scotchy Scotch Scotch I ate last night.
Sam bought me a pint of it and I may have eaten the whole pint in one sitting. It was fantastic and I couldn't resist.
When I actually did wake up it was 5:36 am, 4 minutes before my alarm. Which still sucks, but at least I won't be late for work.
Posted on | April 30, 2014 | No Comments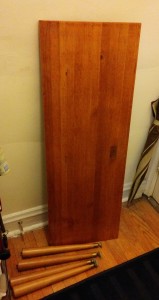 I'm in purge mode I think…..
I want to get rid of everything to have a clutter free life.
A few years ago I stopped participating in my buildings "Secret Santa" exchange.  When someone asked me why I responded "I hate knickknacks."  That's all you get from Secret Santa…. food and knickknacks.  Too many knickknacks equals clutter.
My office is already messy…. I don't need anything else to mess it up. I've got Legos, a Rubik s cube, an Etch-a-Sketch sphere and a student desk filled with games.  That's all I need.
So back to the purge….. Getting rid of two old couches and replacing them with a new couch and new chair was amazing.  We rearranged the living room (a little), got rid of some things (small desk, old table, lamps) and bam, clutter free living room.  I'm shocked.  Now I want it for the rest of the apartment.  Our office…. almost there….. bedroom…. may need a little work…. and the kitchen/dining room…. getting there.
But to get rid of stuff means to acknowledge that I don't need or don't have a connection.  Like the 25 cent end table I moved to Buffalo with.  I left its pair in Buffalo when I moved to Cleveland.  He's solid and pretty much indestructible. Now its time to get rid of this guy and I'm torn.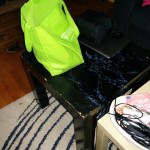 And the cheap coffee table I picked up at a consignment store for a few dollars.  Awesome.  He comes apart and hides anywhere. But again… no need for it any more.  He's just clutter.  But I've had these things longer than I've owned Angelo. But clutter free…..
It sounds like such a wonderful idea.
Maybe PJ will take them
Posted on | April 28, 2014 | 1 Comment
Up until now, the only couch I had in my adult life was an old, old, floral patterned couch that a roommate had bought when I first moved to Buffalo at 23 years old.  It was at least 10 – 20 years old then, and was already in bad shape.  But they had gotten a couch for $20.  Not bad.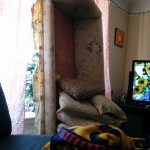 Old Couch was comfortable.  Reg lived on it for almost the whole year we lived together.  It was a great napping couch.  But this last year really pushed the limit on its life span.  The cushions had started splitting, sheet I threw over it to keep it looking nice no longer made much of a difference.  You knew what was under there.  The couch had no legs, due to a screw snapping when I moved from Buffalo to Cleveland.
So it had to go.  It was the kind of furniture I had an attachment too after having it for twelve years and 6 different apartments.  For this period of my life, everywhere I went, this couch went too.  But it was time to part ways, and I knew what I wanted to replace it.
Three years ago when Sam and I moved in together we took a trip to Ikea.  I instantly fell in love with their Kivik sofa series.  I knew it was the couch for me, but we weren't in a place to buy a couch then, and in all honesty I was still good with our set up.  We had a couch and a futon in our living room.  You think it would have been crowded, but it wasn't.  They both had a wall to be against, and we had gotten to each having our own couch nightly to sprawl on while unwinding.
But I wanted the Kivik.  And this year I had, admit-tingly, gone on about wanting to buy the Kivik.  When Sam said yes lets do it, I was all in.  So Saturday we drove to the Canton, Michigan Ikea.  Checking stock at the Pittsburgh Ikea showed that they were out. It had been an ongoing dread of mine that they would cancel the Kivik series before I got one, thankfully that didn't happen.
A quick trip to Ikea Canton (there is nothing quick about a 2.5 hour drive or a trip to Ikea, although we kept our visit to under 2 hours…. a personal Ikea record for us) and we were back home hauling 100 pound boxes up three flights of stairs to our apartment.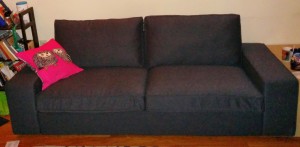 I had taken apart the futon couch the night before, and we were giving it to one of Sam's friends.  And old couch had been upended to be moved to the dumpster afterwards.  It took the two of us about an hour and half to get both the Couch and Chaise together.  Ikea only sent us one defective part (not bad Ikea, not bad).  It was a part to attach the Chaise to the Couch as one unit, but we decided we like them separate for now and will most likely keep it that way when Ikea sends us the replacement part.
Angelo has instantly taken to loving both the chaise and the couch.  He moves back and forth between them every half hour or so.  He was extremely intimidated by the unpacking and the assembly process, but the soft cushions eventually won his love.  Yesterday was our first full day with them.  It was busy day…. cleaning, couch moving, recycling of copious amounts of cardboard, rearranging that comes with new furniture… all that jazz.  But at the end of the day, man the couch and chaise were comfortable and worth it.  First brand new couch of my adult life…. positive experience.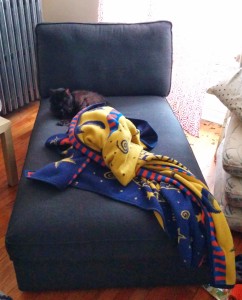 keep looking »