Posted on | May 20, 2013 | No Comments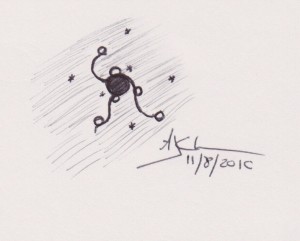 I do my best thinking on my bike.
When I'm out on long rides I listen to music or audiobooks or the news, but these don't distract my mind from wandering.  I've come up with stories, book ideas, things to draw, blog entries, and other random deep thoughts.  I'll have the greatest ideas every, things I get excited about to implement or do when I get home.
The problem is that I forget everything I've thought of as soon as I finish my ride.  Its like I get all this blood pumping to my head while biking and clears away the background noise constantly buzzing in my head.  Nothing going on except biking and the thoughts in my brain.  No distractions.
Someday, I'll be able to harness this for the good of all mankind I'm sure.
Posted on | May 15, 2013 | No Comments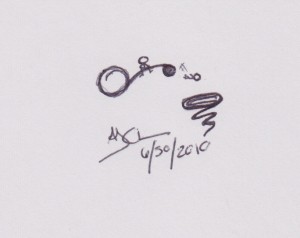 The right music to wake up to is important.
Nothing crazy is my motto.  Smooth into melody.
I think I've hit the nail on the head with this one.  Maybe a little too good.  I've got the perfect morning song that ends up stuck in my head for at least an hour each morning after I wake up.  And as Sam can attest, if more than one second of the alarm plays before my lightening quick morning reflexes shut off the alarm, it has been a bad morning.
I once almost punched a girlfriend when she accidentally played the same song I used for an alarm late at night while I was sleeping.  She was awake in bed and was trying to put a show or movie on the laptop (I can sleep through that and just about anything else) and played the song instead.  I sat up immediately and snatched my arm out to shut off the alarm and almost gave her a black eye.
Anyways.  Stories aside, this one song has been what I wake up to on workdays for the last year or so.

Posted on | May 14, 2013 | No Comments
I was in bed crazy early last night.  10:15pm I laid down.
That's insane. But other than that I've got little to write about this morning.
So, another short, off the top of my head, Rory's Story Cube inspired story.
___________________________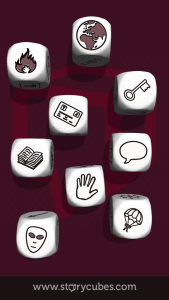 Jim – at least he called himself Jim, he wasn't really sure who he was but knew he had an affinity for three letter names so he picked Jim – currently found himself falling out of a plane.  Or it could be a UFO.  Or a hot air plane.  Or a helicopter.
Here's the thing about waking up to find yourself falling towards the ground at an exceedingly fast rate, you don't worry about what you're coming out of.  Jim just knew that he was falling.  He freaked out quite a bit, because honestly he had no choice, instinct and all.
"First time, eh."
Jim looked over and saw another person falling right next to him.
"I'm Cindy.  Don't worry, we'll be fine."
Jim didn't feel like conversation, but stopped screaming (he was screaming he realized, instinct and all) so he could talk to her.
"I'm just a little concerned about impending death," he said in a surprisingly relaxed tone.
"Don't worry, the aliens always let us go prepared."
"Aliens?" Jim asked.
"Yeah.  Let me guess, you can remember who you are or how you got here."
"Pretty much.  Although I woke up calling myself Jim."  It was just then that he realized he couldn't remember anything before waking up, and wasn't really sure his name was Jim.
"Don't worry.  You've got a parachute, like me. Just pull that tab there."
And Jim saw that he did have a parachute on. And he pulled the tab and slowed, drifting far away from Cindy.
Jim was instantly at ease.  Sure he didn't know who he was, what he was doing, or where he was falling to, but it was relaxing and pretty.  Trees everywhere.
He took the time to check his pockets.  He had a small book, a pack of matches, and a key.  He was really hoping for a wallet or some form of ID, but apparently the aliens, if it was aliens – he was pretty sure Cindy was nuts, the aliens had decided it wasn't necessary.
He looked around as he drifted towards the ground wondering where he was.  He saw a small town in the distance and guessed that was where he should head when he lands.
Posted on | May 13, 2013 | No Comments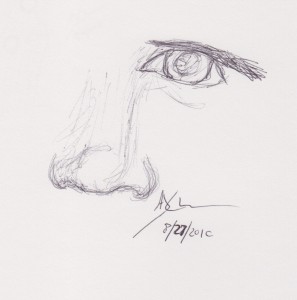 I made last summer the "Summer of Self."
Basically I the goal was to read books, draw, get my finances in order, and get in better shape.
On the read books goal, well I've read a few books over the last year, but sadly not as frequently or in whole as I wanted.  I more or less end up reading half a book, stop at a natural break in the story, and end up picking up another book a few weeks later.  So I'm reading (and I read the news and various comic books daily).  So I'm a nerd more than a literary fiend.  It is ok.
Drawing – I'm about a month behind in drawings, which, all things considered, is pretty good.  At one point I was 100 drawings behind.  I'm slowly catching up.  We'll put this one in the "ongoing progress" category.
Get Finances in Order.  Well I have no credit card debt, but do still pay student loans and have a car payment.  But those are manageable.  Getting rid of credit card debt was huge.  Its been a goal for years.  So that's a check in the done category.
Getting in Better Shape.  Well, January 2012 I weighed almost 200 pounds.  Which is nuts for my frame and who I am.  Today I weighed in at 170.5.  Not bad.  I weighed 185 in July 2012 and 170 by the middle of October 2012.  Which is when my regular biking ended.  So the fact that I've maintained 170 (ish) since then is really good.  I'm back to biking regularly and my goal is to get to 160 and maintain there.  So I'll put a check in the done category (being that exercise is a routine as opposed to a rarity now) with some more refinement to be done.
I think I did pretty good with my goals.  I'll have to keep working on them as I figure out some new ones for this summer.
Posted on | May 6, 2013 | No Comments
I think I slept last night with a tight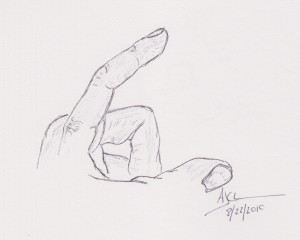 closed fist.
Not that I'm positive it was all night long, but I woke up with the fingers on my left hand hurting and needing to be cracked.  Just stiff.  I know I woke up once during the night and straightened my hand out.  I don't know how long it was in a fist, but half asleep I felt how stiff my fingers were and straightened them.  Even now they are still sore.  Just my left hand though.
Strangely though on my bike rides I have the same thing happen.  My fingers feeling stiff after being wrapped around the handle bars for 30 – 40 mile rides.  Lately I try to keep my fingers open more that closed and that seems to be helping.  The handle bars on the new bike are slightly thicker than the handle bars on my old bike and I think that leaves my fingers in an awkward spot, slightly more open than they normally would be closed around something.
Maybe I'm just getting old…. older that is.
Posted on | April 30, 2013 | 2 Comments
So I find that I do best biking when I listen to either talk radio or a book on tape.
I know… you're not supposed to listen to music while biking, but I can't help it.  I don't turn it up loud, I can hear cars coming from way down the street, and have never had someone say something at me while biking that I didn't know. N0w I'm listening Dune on tape.  I'm loving it.  I haven't read Dune in years, and for some reason Sam brought it up last week and we watched it (the SciFi Channel Version) over the weekend.
So I'm listening to it and I come across this quote:
There is probably no more terrible instant of enlightenment than the one in which you discover your father is a man — with human flesh.
So he's obviously talking about the death of his father, or the idea that your father is mortal.  It got me thinking.
My father may not be the Kwisatz Haderach, but damned if he isn't a Charpentier.  Not that being a Charpentier carries the same notion with others of my family as it does with me.  I always use the excuse "I'm a Charpentier" to push myself further.  It's a reason to trust my body when I get sick, that it would let me know if I needed to see a doctor (Charpentier Genes!!!).  It's a reason to exercise, and not be happy about being out of shape.  It's a reason to bike 50 miles completely unprepared for.  It's a reason for getting frustrated when someone passes me while I'm biking or running.  I'm a Charpentier, I should be able to keep up.  And overall, I'm a Charpentier I'll get by, I can do that regardless of not being prepared.  I'll persevere.
Cause I'm a Charpentier.
This is in no small part because of my father.  He's a pretty aged (65) and still looks like he could kick my ass.  Or at least take me in wrestling.  He's been a role model for a lot of my life, like I assume many fathers are.  He's also pretty indestructible.  He survived Vietnam, the 70′s, having his knee tore up, being run over by a Jeep Wrangler and 5 children.  FIVE Kids. 3 of them girls.  He's still sane, in good shape, and can follow conversation with someone without even looking like he's paying attention (its a pretty impressive ability).
My dad rocks.  And while I'm not sure where I'm going with this post, that quote in Dune made me think of him.
Cause while he has shown signs of aging, and is probably mortal, I'm not entirely convinced yet that he isn't immortal either. And that only adds to all the other stuff that already makes him pretty amazing.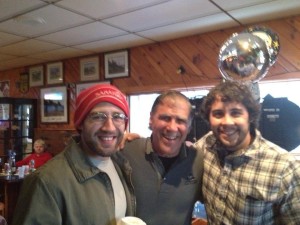 My brother, Dad and myself.
Posted on | April 29, 2013 | No Comments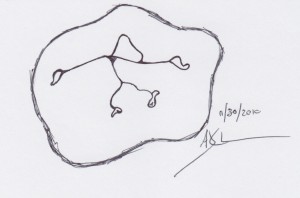 Looking at the weather last night I knew there was no way I could bike to work today.  It was raining pretty good when I got up.  Thirty minutes later its passed and fine now, but I would have had to bike through that rain and that's not an option when biking to work.  There aren't showers at work, and odds are the work clothes I'd bring in my bag would be pretty soaked.
So I've put off biking to work until Wednesday.  Wednesday looks like the better day right now. Tuesday looks great too…. but there are OAA's on Tuesday and its better to not add any stress to that day.  There will also be a meeting after school that may be later than expected.  So Wednesday.  All the same… it should be a great week for biking.  It's supposed to dry out over the afternoon, high of 63.  Tomorrow no rain and high of 73.  Wednesday no rain and high of 74.  Beyond that, its spring in Ohio and predicting weather out past tomorrow is sketchy, much less 3 days out.
I did get a 30 mile ride in Saturday.  It felt great.  Could have been longer.  I honestly felt great.  However this has been a windy year.  I have no clue why, but there is constant wind.  I don't remember it from my rides last year.  And I biked away from the lake on my 30 mile ride, but as soon as I turned around there was a constant headwind of 10 – 15 mph.  It was bizarre and frustrating, especially considering how the ride back is subtle uphill and a few big hills.  Headwind makes those bigger hills just unbearable.
But whatever, it still feels good biking.  And no one passed me.  Cause I don't ever want anyone to pass me when I bike.  I'm a little bit ego centric like that.
Posted on | April 26, 2013 | No Comments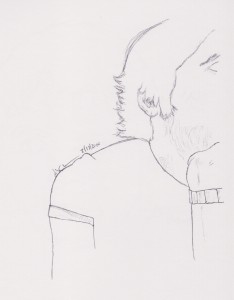 Last year I biked to work several times.
Of course by this time last year the weather had changed to consistently warm and sunny, where as this year it's been warm and sunny one day, and snowing the next.  I'm not kidding.  This has been a year of bizarre weather in Cleveland.  Last Thursday we set a record for the high temperature.  83 degrees Fahrenheit.  Saturday morning it was snowing when I drove into work.  That's messed up.  Weekends in particular have been either wet, or really cold limiting the distance riding I could do.
So its been hard to get bike rides in consistently.  I had done at least one 50 mile bike ride at this point last year.  My longest ride has been 18 miles this year.  And I've only been biking for three or so weeks.  Which is probably about the same time frame as last year.  But I'm not sure I'm in the same biking shape I was last year.  Although I weigh less than last year and I have a new bike which is driving my enthusiasm.  I just need the weather to catch up with my enthusiasm.
Monday I think is the day.  Sunday night/Monday morning its not supposed to dip below 54 degrees Fahrenheit.  Sunrise is 6:26am – so it'll be light quickly after I leave.  Only a 10% chance of rain and very slight wind.  In the afternoon it'll be low 60′s.  Perfect biking day.  So this morning when the 5:30am alarm went off and I couldn't fall back asleep (I'm certain its vengeance from my brain for trying to sleep more yesterday… see my last post), I was thinking about what it would have to be for me to start biking to work temperature and weather wise, and when I would have to leave.  It is a 24 mile ride to work.  Not that far.  It should really take me 90 minutes or so bike it, and that's being pretty fair.  That's 16 miles an hour riding.  Not a crazy pace by any means.  but I would give myself a little less than two hours.  Get up at 5:30am (packed the night before) and hit the road at 5:45am and I should be good.  That gives me 1 hour and 45 minutes to leisurely bike to work.  No problem.
Last year I jump started my biking with a 50 mile ride.  To kind of prove to myself I could.  I don't need that this year.  But I need to do something that guarantees a longer ride for me.  I think biking to work is it.  And I'm excited about it.  I like that.  Makes me smile.
Posted on | April 25, 2013 | No Comments
I am not normally a fan of the snooze button.
That's not exactly true.  I set two alarms instead of using a snooze button.  One for 5:30am and one for 5:50am.  Nothing in between.  If I don't get up at 5:30 then I sleep until 5:50.  And I never get up at 5:30.  But that's a sneaky 20 minutes. I use it to trick my brain into thinking every weekday I'm going to be up at 5:30, and those 20 minutes are special and it only gets them on occasion.
This morning I tried to add another ten minutes into the situation.  When the second alarm went off at 5:50am I set an alarm for 6:00 so I could sleep a little longer.  My brain apparently didn't appreciate this attempt at more sleep.  I ended up laying awake for 7 minutes until I decided to just get out of bed.
I think my brain is in on the trick of setting two alarms.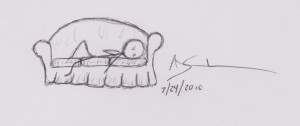 Posted on | April 24, 2013 | 1 Comment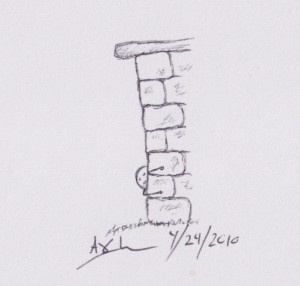 What does it mean when your dream consists on trying to get a baby elephant onto a train to go to work with you?
In the dream it seemed like I spent an hour or two trying to keep the elephant hidden and get it on a train.  It was a cantankerous elephant, and every time I tried to get it to move it went the other direction.  I think it charged at me at one point.
Weird and Bizarre.
keep looking »